American Orthodontics Earns a Record 9 International MarCom Awards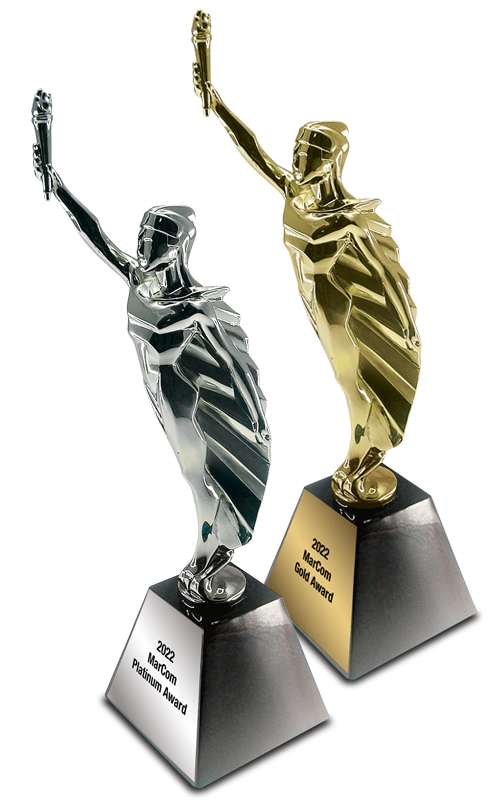 Sheboygan, Wisconsin - American Orthodontics has earned nine 2022 International MarCom Awards, including three prestigious Platinum Award and three Gold Awards. Out of more than 6,500 entries worldwide, only 15% of those earned Platinum status, 20% earned Gold, while 10% received Honorable Mention. The nine awards represent the largest number of Platinum and Gold honors the creative marketing department of American Orthodontics has ever garnered.
AO's Arch Wire brochure won a Platinum Award in the Print Media category. The colorful, retro looking, four-page compilation of the arch wire offerings of the company utilizes each package color of the different arch wire selections to create an eye-catching piece.
Also earning Platinum honors were AO Basics catalog and the AO Basics Spotlight Sale catalog, both in the Brochures/Catalog category. This 95-page handbook is used to feature crucial orthodontic products that go beyond brackets, bands, and tubes and is organized in a concise and easy to read format. The Spotlight Sale catalog is a slimmer version which offered certain products at discounted prices.
The Gold Awards were bestowed for the How To Take Care Of Your Braces Educational brochure and its Spanish version of the same brochure, both in the Brochures/Educational category. The other is a promotional postcard touting PlaqueHD, a new product in American Orthodontics portfolio which won in the Marketing/Promotion/Materials category.
Three additional pieces were tabbed as Honorable Mention. A promotional item, corporate branded socks, earned this honor along with table top display called "Protect Your Teeth" and a "Improve Patient Brushing brochure. All nine entries of the company were recognized, setting a new standard for American Orthodontics.
These awards are judged and bestowed by the Association of Marketing and Communication Professionals (AMCP) and honor the creativity, concept, writing, and design of print, visual, audio and web materials. Judges are industry professionals who look for companies and individuals whose talent exceeds a high standard of excellence and whose work serves as a benchmark for the industry.
"Each year, our marketing team has been able to raise the bar in terms of the quality and quantity of outstanding marketing communications which produce clear information with appealing formats for our customers," says American Orthodontics Vice President of Marketing Michael Terrill. "To be recognized by the AMCP affirms our commitment to the quality we strive for as an organization and reflects our dedication to providing Orthodontic practices around the world with industry-leading marketing materials."
ABOUT AMERICAN ORTHODONTICS: American Orthodontics is the largest privately held orthodontic manufacturer in the world, proudly based in Sheboygan, Wisconsin. Since 1968, American Orthodontics has been manufacturing quality orthodontic products and peripherals for customers in more than 110 countries. More than 98% of American Orthodontics' products are manufactured at its Sheboygan headquarters using highly automated production equipment and a skilled, dedicated workforce. With 14 wholly owned subsidiaries, a direct sales force in North America, and a global team of exclusive distributors, American Orthodontics is a true orthodontic industry leader, committed to providing customers quality products, personalized service and dependable delivery.
For more information, please contact Michael Terrill, VP of Marketing, at mterrill@americanortho.com