American Orthodontics Earns Six International MarCom Awards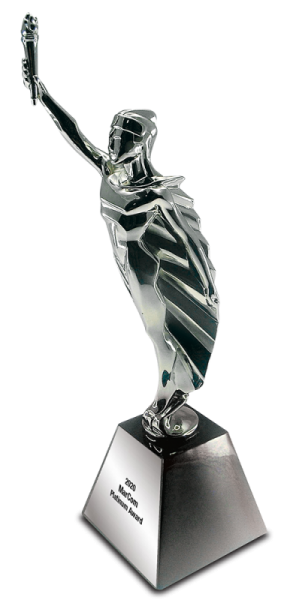 Sheboygan, WI — American Orthodontics is proud to announce the creative marketing team of the company has won six International MarCom Awards, including a prestigious Platinum Award and two Gold Awards. Out of more than 6,000 entries worldwide, only 15% of those earned Platinum status, 20% earned Gold, while 10% received Honorable Mention.
AO's Iconix Typodont Display Box won a Platinum Award in the Packaging Design category. Iconix stainless steel champagne colored brackets are a popular offering in aesthetic brackets and the Typodont Display Box allows a typodont model with affixed brackets to be shipped and then converted into a display box that matches the elegance of Iconix brackets.
AO garnered a Gold Award for its Beyond The Brackets: Bonding Protocol literature in the Brochure category and also earned a Gold Award for its corporate website redesign. AO also achieved Honorable Mention status for three of its print brochures, Empower 2 Clear Braces, Radiance Plus Clear Braces, and How To Care For Your Braces. All six of the entries of the company were recognized, a record number for American Orthodontics.
These awards are judged and bestowed by the Association of Marketing and Communication Professionals (AMCP) and honor the creativity, concept, writing, and design of print, visual, audio and web materials. Judges are industry professionals who look for companies and individuals whose talent exceeds a high standard of excellence and whose work serves as a benchmark for the industry.
"It is a great honor for our creative team to have so many projects earn recognition during such a challenging year," says American Orthodontics Vice President of Marketing Michael Terrill. "These award-winning pieces represent the quality we strive for as an organization and reflect our dedication to providing Orthodontic practices around the world with industry-leading marketing materials."
The AMCP is an international organization consisting of several thousand creative professionals, and oversees awards and recognition programs, provides judges, and sets standards for excellence. MarCom is one of the oldest and most prestigious creative competitions in the world. MarCom Awards recognizes outstanding achievement by creative professionals involved in the concept, direction, design, and production of marketing and communication materials and programs. Entries come from corporate marketing and communication departments, advertising agencies, PR firms, design shops, production companies, and freelancers.
ABOUT AMERICAN ORTHODONTICS: American Orthodontics is the largest privately held orthodontic manufacturer in the world, proudly based in Sheboygan, Wisconsin. Since 1968, American Orthodontics has been manufacturing quality orthodontic products and peripherals for customers in more than 110 countries. More than 98% of American Orthodontics' products are manufactured at its Sheboygan headquarters using highly automated production equipment and a skilled, dedicated workforce. With 14 wholly owned subsidiaries, a direct sales force in North America, and a global team of exclusive distributors, American Orthodontics is a true orthodontic industry leader, committed to providing customers quality products, personalized service and dependable delivery.
For more information, please contact Michael Terrill, VP of Marketing, at mterrill@americanortho.com