BracePaste Shines with a Pair of Additions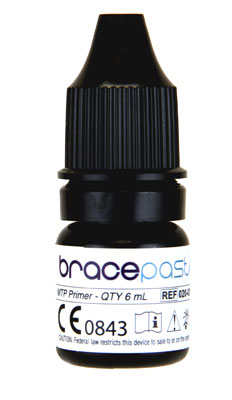 Sheboygan, Wisconsin – BracePaste, the adhesive that fluoresces under UV light allowing clear sight of adhesive remnants to simplify cleanup, is introducing a pair of convenient additions. The first, BracePaste Moisture Tolerant Primer, is an excellent product for use in hard-to-control moisture areas. Sold in a 6ml bottle, it is also a time saver as there is no need to dry after rinsing etch. BracePaste Moisture Tolerant Primer can be used with any adhesive and can be used with a brushette to help form an occlusal build up.
Also new are BracePaste kits. Each kit includes 2 BracePaste syringes totaling 8 grams, a bottle of Moisture Tolerant Primer or Fluorsure Primer, 50 Sealant applicator tips, 5 spatulas, and an applicator handle.
ABOUT AMERICAN ORTHODONTICS: American Orthodontics is the largest privately held orthodontic manufacturer in the world, proudly based in Sheboygan, Wisconsin. Since 1968, American Orthodontics has been manufacturing quality orthodontic products and peripherals for customers in more than 110 countries. More than 98% of American Orthodontics' products are manufactured at its Sheboygan headquarters using highly automated production equipment and a skilled, dedicated workforce. With 14 wholly owned subsidiaries, a direct sales force in North America, and a global team of exclusive distributors, American Orthodontics is a true orthodontic industry leader, committed to providing customers quality products, personalized service and dependable delivery.
For more information or to place an order, please contact your American Orthodontics sales representative or call AO customer service at 1-800-558-7687.