AAO Announces First Supplier of the Year Award Recipients
Sheboygan, Wisconsin – The American Association of Orthodontists has named the recipients of its first-ever "Supplier of the Year" awards. American Orthodontics received top honors by winning the Gold Sponsor Award, outpointing 3M Oral Care (Silver Sponsor Award) and Allure Ortho (Bronze Sponsor Award).
"The Supplier of the Year program is intended to recognize and thank companies and organizations that support the AAO through activities such as exhibiting at our meetings and advertising in our publications," said AAO Chief Executive Officer Lynne Thomas Gordon. "We are delighted to have so much interest from the corporate community that provides our members with products and services. Our staff and advertising sales representatives are eager to help suppliers identify ways to reach AAO members that will best meet their needs."
The Gold Sponsor supplier award goes to the company that earned 11 or more Supplier of the Year priority points during the last fiscal year and has the highest overall point balance. Supplier of the Year priority points are assigned for AAO meeting exhibits, event sponsorships at meetings, AAO publication advertising and sponsorships of our on-campus and online learning opportunities. The company must have exhibited at the AAO Annual Session every year for the last five years.
"American Orthodontics focuses on being the best at taking care of our customer and believes strongly in supporting the AAO and its membership. Being named as a Gold Sponsor Award winner validates our efforts and we look forward to continuing and strengthening our partnership with the AAO," says American Orthodontics CEO Randy Benz.
One of the world's largest manufacturers of brackets, wire, instruments and other orthodontic treatment supplies, American Orthodontics is also a Platinum Corporate Partner of the AAO Foundation.
ABOUT AMERICAN ORTHODONTICS: American Orthodontics is the largest privately held orthodontic manufacturer in the world, proudly based in Sheboygan, Wisconsin. Since 1968, American Orthodontics has been manufacturing quality orthodontic products and peripherals for customers in more than 110 countries. More than 98% of American Orthodontics' products are manufactured at its Sheboygan headquarters using highly automated production equipment and a skilled, dedicated workforce. With 14 wholly owned subsidiaries, a direct sales force in North America, and a global team of exclusive distributors, American Orthodontics is a true orthodontic industry leader, committed to providing customers quality products, personalized service and dependable delivery.
For more information, Michael Terrill, VP of Marketing at mterrill@americanortho.com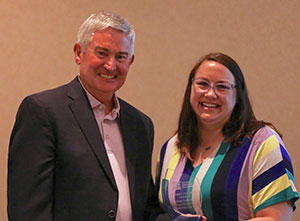 Meg Kerscher-Walsh, Senior Event Coordinator for American Orthodontics, accepts the Gold Supplier of the Year Gold Award from Dr. Gary Inman, President of the American Association of Orthodontists.