PlaqueHD® Products Now Available Exclusively Through American Orthodontics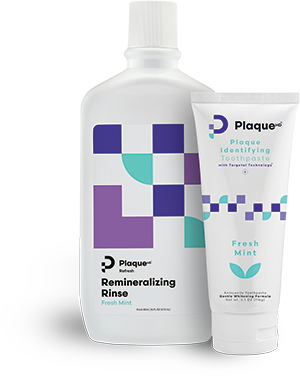 Sheboygan, WI — American Orthodontics is pleased to announce the addition of two new products developed by Hier Labs™ to their global product offering. The first, PlaqueHD® Plaque Identifying Toothpaste, highlights nearly invisible plaque on teeth in a vibrant green color which allows the harmful bacteria that hides around braces to be removed easily. The second product is PlaqueHD® Remineralizing Mouthrinse, which contains a formula which is clinically proven to encourage the restoration of tooth enamel by neutralizing acidic substances and removing bad bacteria from the mouth.
"One of the challenges with braces is they give plaque a place to hide. PlaqueHD provides a visual aid to help identify high plaque areas that require additional care," says Lindsey Cadoo, AO Product Manager. "It removes far more plaque than regular toothpaste which greatly reduces the chance of enamel scarring upon debonding of brackets."
In an independent study conducted at the University of Illinois at Chicago and published in the International Journal of Dentistry and Oral Science in January of 2016, PlaqueHD was shown to remove more than four times as much plaque as compared to the control toothpaste group.
PlaqueHD Toothpaste uses Targetol Technology®, a revolutionary, plant-based, gluten-free coloring agent developed by dentists and chemists to highlight the plaque on teeth for better visibility, allowing patients to see plaque and brush it away. It takes the guesswork out of brushing for patients or parents who are responsible for checking the brushing habits of their children as the green color makes it clear what areas have been missed. PlaqueHD is an FDA-registered fluoride toothpaste containing xylitol, which helps eliminate harmful bacteria in the mouth and on the tongue. PlaqueHD Toothpaste come in two flavors, Fresh Mint and Berry Bubble Gum.
PlaqueHD Remineralizing Mouthrinse is for use after brushing teeth. It has a pleasant taste that hydrates the mouth while strengthening tooth enamel. It provides a healthy alkaline pH level in the mouth with a mineral-rich mouthwash which leaves breath fresh longer by removing bacteria.
For more details, contact your American Orthodontics Sales Representative.
ABOUT AMERICAN ORTHODONTICS & ABOUT PLAQUEHD®: American Orthodontics is one of the largest privately held orthodontic manufacturers in the world, proudly based in Sheboygan, Wisconsin. Since 1968, American Orthodontics has been manufacturing quality orthodontic products and peripherals for customers in more than 110 countries.
PlaqueHD toothpaste was developed in 2009 by Dr. Lawrence Hier, an orthodontist. His goal was to provide a safe, at home plaque-reduction program for patients. PlaqueHD utilizes Targetol Technology, a revolutionary, plant- based, gluten-free coloring agent, to provide a more efficient way to highlight and clean harmful plaque from patients' teeth and gums. PlaqueHD is manufactured by TJA Health, LLC (DBA Hier Labs), a US-based global healthcare company founded in 2013, that creates simple solutions to healthcare's complex problems by leveraging sustainable manufacturing techniques and creating specialized products with broad market appeal.
For more information about PlaqueHD and other leading dental products, visit www.HierLabs.com.
For more information, contact Michael Terrill, American Orthodontics VP of Marketing, at mterrill@americanortho.com