Texas A&M Student Dr. Amanda Gross Wins 2021 Eugene L. Gottlieb JCO Student of the Year Award, Presented by American Orthodontics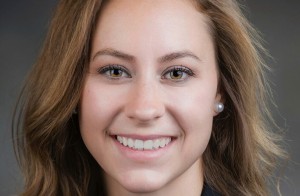 Sheboygan, Wisconsin – The Journal of Clinical Orthodontics is proud to name Dr. Amanda Gross from Texas A&M University as the winner of the 2021 Eugene L. Gottlieb JCO Student of the Year Award, presented by American Orthodontics. Dr. Gross was selected over 16 other students from schools around the United States in a two-stage, months-long competition judged by members of the JCO editorial board. Her prize includes more than $8,000 worth of products and services from American Orthodontics, JCO, and Dolphin.
"I'm shocked and honored to have been picked for the 2021 Eugene L. Gottlieb JCO Student of the Year Award!" said Dr. Gross. "I love the orthodontic profession, and I'm so grateful to begin my journey 'into the real world' with yet another reason to work hard and represent our profession well. I see this award as a beautiful commemoration of the many minds that have helped advance orthodontics. My generation stands on the shoulders of giants, and I hope we can continue to allow for orthodontics to flourish as time moves forward."
JCO was founded in 1967 by Dr. Eugene L. Gottlieb, after whom the Student of the Year Award is named. Dr. Gottlieb died in 2018 at age 99.
Dr. Gross grew up in El Paso, Texas. After double majoring in flute musical arts and biological sciences at Vanderbilt University she attended dental school at the University of Texas Health in San Antonio. After graduating third in her class with distinctions in dental research and education, she attended Texas A&M's orthodontics program. No stranger to awards, Dr. Gross won ten academic, seven clinical, three research, two leadership, and two teaching awards in her time at the University of Texas. At Texas A&M she serves as the resident board advisor for the Texas Association of Orthodontics.
Dr. Gross is the sixth Student of the Year award winner, joining Dr. Saro Atam of Stony Brook University (2020), Dr. Katya Skillestad of Texas A&M University (2019), Dr. Samaneh Mojarrad of the University of Pennsylvania (2018), Dr. Moataz Elmahdy of the University of Rochester (2017), and Dr. Krystian Jarosz of Rutgers University (2016). Texas A&M is the first school in the country to produce two Student of the Year award winners.
American Orthodontics has been the title sponsor of the award each year.
"AO is dedicated to supporting orthodontic education and the future of the profession, and we are very proud to sponsor the JCO Student of the Year Award recognizing the best and brightest in orthodontics," said Director of North American Sales, Todd Beaudoin.
The competition was held in two stages. Every school in the United States was allowed to nominate one current student. Each nominee submitted two letters of recommendation and a personal essay. Nominees were then given the materials from an unpublished case and asked to write a complete treatment plan, including all possible alternatives, within a two-week time frame. Three JCO board members whittled the 17 nominees down to 12 finalists in December.
Each of the finalists then submitted a complete report for a case he or she had worked on. A wider panel of JCO board members voted for the winner.
ABOUT AMERICAN ORTHODONTICS: American Orthodontics is the largest privately held orthodontic manufacturer in the world, proudly based in Sheboygan, Wisconsin. Since 1968, American Orthodontics has been manufacturing quality orthodontic products and peripherals for customers in more than 110 countries. More than 98% of American Orthodontics' products are manufactured at its Sheboygan headquarters using highly automated production equipment and a skilled, dedicated workforce. With 14 wholly owned subsidiaries, a direct sales force in North America, and a global team of exclusive distributors, American Orthodontics is a true orthodontic industry leader, committed to providing customers quality products, personalized service and dependable delivery.
For more information, Michael Terrill, VP of Marketing at mterrill@americanortho.com