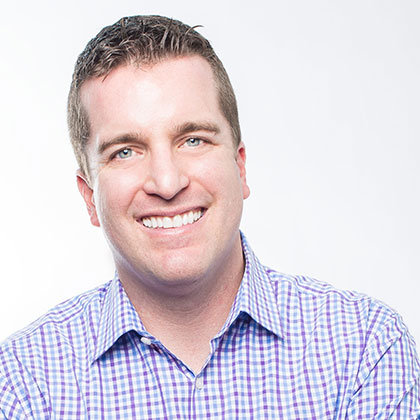 Innovative Orthodontic Solutions:
Work Smarter. Live Better.
Lecture Description:
We are practicing during an amazing time in the history of orthodontics. New technologies are emerging daily. Some of these innovations are merely hype and may actually increase the workload of the Orthodontist, while others are incredibly powerful tools to improve the quality of our clinical care as well as our practice management efficiencies and effectiveness. In addition, patients have more choices available to straighten their teeth. Some patients are choosing to have orthodontics done by their primary care dentist, and some are even getting aligners by mail! With all of these available choices, why should they come to you for their orthodontic care?
This lecture will focus on technology based orthodontic solutions that will allow you to work smarter and live better. It will dive deep into the use of technology to get patients into your office, optimize the overall patient experience, improve clinical outcomes and efficiencies, and simplify the day-to-day management of the orthodontic practice. Most importantly, this lecture will empower you to implement proven, technology-based strategies to differentiate your practice and to help patients and potential patients realize that you are the obvious choice for their orthodontic care. You simply can't afford to miss this!
Lecture Objectives:
Discuss the impact that technological advances have had on the practice of Orthodontics
Review the use of relevant and exciting clinical and practice management technologies in the orthodontic office – virtual orthodontic visits, intraoral scanners, two-way texting, online reviews, social media, Dual Activation in self ligation, and more
Explain how to implement proven, technology-based strategies to work smarter, live better, and to differentiate your practice as the obvious choice for orthodontic care
About Dr. Dan Bills
Dr. Dan Bills is an avid (yet barely competent) golfer, boater and skier who enjoys spending as much time as possible with his wife Emily and his daughter Caroline. Dr. Bills received his Bachelor of Arts degree in Biology from Lafayette College and his dental degree from Harvard University, both with Honors, after which he completed a three-year orthodontic residency at the University of Illinois. He is a Board Certified Diplomate of the American Board of Orthodontics and a Fellow of the American College of Dentists. He founded and maintains a state-of-the-art practice, Innovative Orthodontics, with three locations in Southern New Jersey, just outside of Philadelphia. He has been honored as "Teacher of the Year" by the University of Pennsylvania Department of Orthodontics and by the Department of Dentistry at Virtua Hospital. He lectures regularly at academic institutions and orthodontic meetings, both stateside and abroad, and gives in-office courses about a variety of clinical topics as well as how to better utilize technology in the orthodontic office. One of his greatest passions is teaching his colleagues how to work smarter and, consequently, live better.
Tuition: $99 or 150 Loyalty Points (includes 1 doctor and 2 staff members)
CE Credits: 6
Schedule:
8:00 AM Registration & Breakfast
9:00 AM Lecture
1:00 PM Lunch
4:00 PM Conclusion