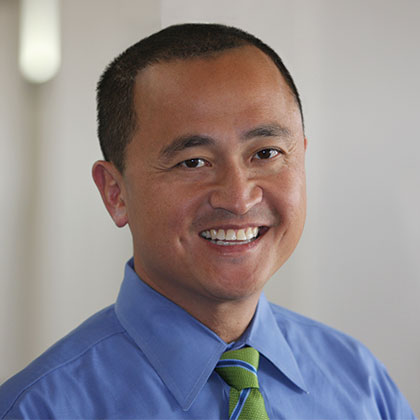 Download Brochure
Turbocharge Your Practice with 3D Digital Orthodontics and Self Ligation for Maximum Clinical Efficiency
3D digital orthodontics is one of the major disruptors in orthodontics and technology is the driving force behind all of this. In his lecture, Dr. Lin will share his experiences over the past 24 years with self ligation and the digital orthodontic technologies which he has had utilized in his practices.
Current topics which he believes are critical in advancing our esteemed profession of orthodontics are: 1) Virtual software applications to create treatment simulations for correcting the malocclusion and developing the smile arc with either robotically bent wires or custom (machine milled or 3D printed) brackets, 2) Cone Beam Computed Tomography (CBCT) – We have been utilizing CBCT since 2005 in all of our practices. Without a doubt, CBCT provides a higher standard of care for diagnosis and treatment planning. There are currently several software applications that offer therapeutic applications which currently integrate CBCT. 3) Finally... Intraoral scanning and 3D printing. These 2 technologies go hand in hand and we as a profession should set a goal to eliminate alginate and PVS impressions entirely for all orthodontic treatment. High quality digital intraoral scans are much more comfortable for patients and offer a range of benefits to the orthodontist with digital data which can be easily stored and fabricated much faster with 3D printing versus a traditional alginate/PVS impression.
In addition, this digital model can be transferred immediately to any lab for fabrication of all Phase I appliances, retainers, 3D printed indirect bonding trays, 3D printed models, 3D printed brackets, and for fabrication of aligners off 3D printed models. 3D printing has also made an entry into metal 3D printing in orthodontics for fabrication of appliances such as RPEs, Nance appliances, and lower lingual arches. 3D printing is transforming orthodontics and adds incredible value and efficiencies to any orthodontic practice. Dr. Lin personally feels that 3D digital orthodontics is the future for advancing our orthodontic profession and collaboration as a society is what will help take our profession to the next level.
Objectives:
To understand how self-ligation can improve clinical efficiency for all case types and especially when incorporated with 3D digital orthodontics

To understand how digital orthodontics can reduce the number of appointments and reduce treatment times

To learn basic fundamentals of 3D printing and how to setup a 3D printing lab in your practice

To learn how to setup in-house aligners in your practice and to use this in combination with hybrid treatment
Agenda:
Breakfast 8:00 - 9:00 AM
Lecture 9:00 - 12:00 PM
Speaker:
Dr. Ed Lin, D.D.S., M.S.
Dr. Ed Lin is one of two partners at Orthodontic Specialists of Green Bay (OSGB), a private practice in Green Bay, Wisconsin. He is also one of two partners at Apple Creek Orthodontics of Appleton (ACOA). Dr. Lin received both his dental (DDS) and orthodontic (MS) degrees from Northwestern University Dental School. OSGB and ACOA are both completely digital practices and have been utilizing SureSmile since February of 2004 at four different practice locations.
CE Credits: 3 CE Credits