Set Sail for a Course Like No Other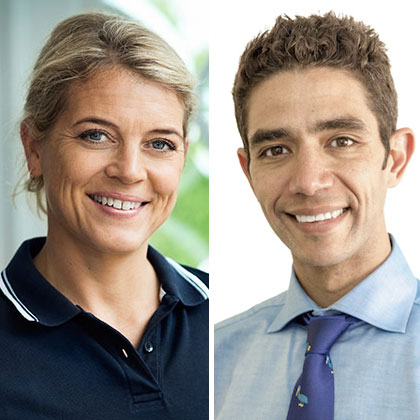 American Orthodontics invites you all aboard for an unforgettable experience of sailing the Sydney Harbour on a 122 foot super yacht featuring stunning views of an amazing Vivid Sydney Light show. AO will have all hands on deck hosting presentations by Dr. Karin Becktor and Dr. Nour Tarraf on Friday, August 6th at the luxurious Pier One Sydney Harbour, Autograph Collection Hotel. Conclude the day with a four-hour dinner cruise as the Vivid Light show celebrates Sydney as the creative hub of the Asia-Pacific with its large-scale light installations and projections.
LECTURE DESCRIPTION
My Digital Journey
Dr. Karin Becktor explains her path to digital orthodontics.
3D Technology in Orthodontics: Has it Really Changed What We Do?
Technology has touched on every aspect of our lives how has it affected orthodontics? In recent years orthodontics has been impacted by the introduction of multiple new technologies from diagnosis and planning to treatment tools.
3D printing has revolutionized our appliance options with the sky being the limit for innovative design. How does this translate to better or more efficient treatment? Does it change the patient experience?
This presentation will delve into some of the new technologies in orthodontics, such as 3D virtual planning, robotic wire bending and resin as well as metal 3D printing. I will cover how they have altered modern practice and how they are used as well as what disadvantages or negative aspects they may have.
Managing Midface Deficiency: Do TADs Really Make a Difference?
In recent years orthodontic treatment has been revolutionized by the introduction of skeletal anchorage or temporary anchorage devices (TADs). They have greatly expanded the horizon of what is achievable through orthodontic treatment for both adults and children.
Furthermore, the application of skeletal anchorage in growing patients allows the orthodontists to perform true jaw orthopaedics with no or minimal dental side effects. The results are proving superior to conventional tooth borne growth modification with the additional benefit of minimizing the need for obtrusive appliances such as head gears and face masks and better patient acceptance with less need for compliance.
This presentation will cover the recent advances in managing maxillary deficiency with the help of skeletal anchorage in Class III and transverse problems examining the available evidence.
AGENDA
08.00 - 10.00 // Dr. Karin Becktor Lecture
10.15 - 10.30 // Break
10.30 - 11.30 // Dr. Karin Becktor Lecture
11.30 - 01.00 // Lunch
01.00 - 02.00 // Dr. Nour Tarraf Lecture
02.00 - 02.30 // Break
02.30 - 03.30 // Dr. Nour Tarraf Lecture
05.30 - 09.30 // Dinner and Cocktails on the Ghost II from Walsh Bay Wharf
BIOGRAPHY
Dr. Karin Becktor
I have practiced orthodontics for 20 years with conventional work-flows – why did I change? I am not tech-savvy, but still, I manage to integrate digital workflows in my practice.
I have come a long way since I started going digital – To begin with, I only used the digital models for diagnostics and treatment planning. But with time, I learned how to use the digital models and the software for improved patient communication and easy integration with appliance providers and laboratories.
Now I use digital technologies for in house aligners, multi-disciplinary cases, and I have fully digital work-flows for bone-anchored intrusion and Hybrid Hyrax appliances.
However, these digital tools require sophisticated hardware and software, and we must make up our mind if we as clinicians should have blind faith in all this new technology, or if the basic understanding on growth and development, as well as biomechanics, still are topics that a modern orthodontist should master?
One thing is for sure digital orthodontics is here now, and it will be a part of our future; therefore we must face our fears, and we should see artificial intelligence as an orthodontic augmentation, where the sum of human smart and machine smart will make us stronger.
DDS: University of Copenhagen, Denmark 1990
Orthodontist: University of Copenhagen, Denmark 1998
Visiting clinician: Mayo Clinic Rochester, USA 2000
Beni Solow Award for best published paper in European Journal of Orthodontics 2002
Ph.D: University of Copenhagen, Denmark 2004
Active Member Angle Society of Europe 2014
Postgraduate course in Cranio-Mandibular function, San Sebastian, Spain 2014
Consulting Orthodontist, University Hospital, Rigshospitalet, Copenhagen 2004-2013
Private practise in Hellerup, Denmark limited to orthodontics and oral surgery since 2001
Dr. Nour Eldin Tarraf
BDS(Hons), MDSc(Hons), MOrth RCSEd, MRACDS (Ortho)
Nour finished his BDS at Cairo University with Honors in 2001 followed by an orthodontic residency at Cairo University. He then moved to Sydney where he completed his Masters degree in Orthodontics at the University of Sydney in 2008 with Honors. He works in private practice in Chatswood, Sydney and is involved in research and teaching at the University of Sydney. Nour has a special interest in invisible orthodontic techniques such as lingual orthodontics and Invisalign. He is the past president of the Australasian Society Of Lingual Orthodontics. He is also the first and only Australian to become a Titular member of the European Society of Lingual Orthodontics and an Active member of the World Society of Lingual Orthodontics.
Among his special interests are the use of digital technology in orthodontics, early orthodontics and growth modification treatment and he is currently working towards a PhD on the application of skeletal anchorage in growth modification for growing children. He has lectured nationally and internationally and has number of scientific publications.
CONTACT: Terri Green at tgreen@americanortho.com