Ultimate CE: Porsche® Driving Experience
with Dr. Matt Ng
B.S.c., D.M.D., M.S.D., F.R.C.D. (C)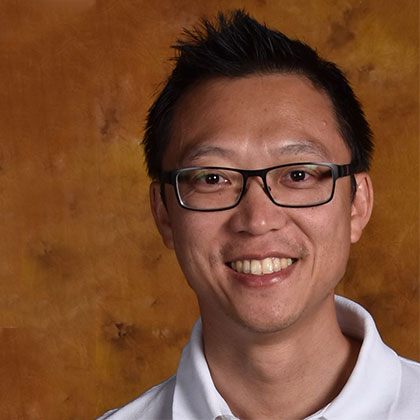 FUEL YOUR PASSION
Live life in the fast lane by adding velocity to your knowledge and adrenaline to your brain at the AO Ultimate CE: Porsche Driving Experience in Birmingham, Alabama. Dr. Matt Ng sets the pace on Thursday evening with his unique Become a CEO course. You will then spend a full day on Friday experiencing the speed and handling of iconic Porsche super cars at Barber Motorsports Park, an 880 acre world class, 16 turn, 2.38 mile racetrack.
Afterward, cross the finish line with an unforgettable walk through the Barber Vintage Motorsport Museum spanning 100 years of production from 200 different manufacturers from 20 countries and home to the largest collection of motorcycles in the world. It is also the world's most extensive Lotus collection, anchored by the Lotus 21.
Space is limited and spots for the event will speed by so don't pass up this chance and register today!
LECTURE DESCRIPTION
Become a CEO
All too often, we think of being a CEO in our practices having to do with the day-to-day business operations. We can increase the profitability and stress in our practices by becoming a CEO, a more C-linically E-fficient O-rthodontist! Dr. Matthew Ng will compare and contrast self ligating brackets versus other common active and passive SL options. He will discuss the advantages of self ligation and how it has helped him effectively manage torque in extraction and non-extraction cases. Dr. Ng will also present his interceptive orthodontic treatment philosophy and how the proper management of children in malocclusion can turn difficult cases into easy ones in the permanent dentition.
OBJECTIVES
Discuss the advantages that self ligating brackets can provide
Demonstrate the torque effectiveness of a self ligationg bracket
How using self ligating brackets can increase predictability in your cases and profitability in your practices
Demonstrate how effective management of children in the mixed dentition makes treatment in full permanent dentition more straightforward
Employ techniques to eliminate impacted maxillary canines from your practice
TUITION INFORMATION:
Tuition will be billed to your account within 5-7 business days of the registration confirmation.
TUITION INCLUDES:
Two (2) CE credits, Two (2) nights hotel at Grand Bohemian Hotel Mountain Brook (Thursday & Friday), meals, lecture, precision 1-day course
RECOMENDED AIRPORTS:
Birmingham-Shuttlesworth International Airport (BHM) – 15 minutes
Hartsfield-Jackson Atlanta International Airport (ATL) – 120 minutes
CE Credits: 2
ABOUT DR. MATT NG
DMD MSD FRCD(C)
Diplomate, American Board of Orthodontics
Dr. Matthew Ng completed his undergraduate (BSc) and dental education (DMD) at the University of Manitoba in Winnipeg, Canada. He went on to pursue his orthodontic education (MSD) at Saint Louis University in St. Louis, Missouri. Dr. Ng is a Board-Certified orthodontist in both the USA and Canada as a Diplomate of the American Board of Orthodontics and a Fellow of the Royal College of Dentists in Canada. Dr. Ng is an active member in the profession as a Past President of the British Columbia Dental Specialists Society and the Texas Association of Orthodontists. He currently serves as the RMSO/SWSO Councillor for the College of Diplomates of the American Board of Orthodontics. He is also a proud member of the Southwest Component of the Edward H. Angle Society of Orthodontists. Dr. Ng is humbled to lecture at a number of orthodontic residencies as a Guest Lecturer and enjoys meeting orthodontists all over the world as a Key-Opinion Leader for American Orthodontics. In his spare time, he is an active member of his local church and spending time with his lovely wife, two young sons and baby girl. Dr. Ng maintains his private practice in Cypress and Katy, TX.
AGENDA
Thursday, August 18
Arrivals
Dinner Lecture*
Friday, August 19
Precision 1-Day Course
Barber Vintage Motorsport Museum Tour
Group Dinner
Saturday, August 20
Departures
*eligible for CDE credit

American Orthodontics, Corp. is an ADA CERP Recognized Provider. ADA CERP is a service of the American Dental Association to assist dental professionals in identifying quality providers of continuing dental education. ADA CERP does not approve or endorse individual courses or instructors, nor does it imply acceptance of credit hours by boards of dentistry. Concerns or complaints about a CE provider may be directed to the provider or to ADA CERP at www.ada.org/cerp.
REFUND/CANCELLATION POLICY
Seminar Cancellations
Registration fees will be fully refunded if a notice of cancellation is received by American Orthodontics no later than sixty (60) calendar days prior to the scheduled start date of the seminar. Notices of cancellation received after sixty (60) calendar days prior, and no later than thirty (30) calendar days prior to the scheduled start date of the seminar, will receive a 50% refund. Notices of cancellation received after thirty (30) calendar days are not refundable.
In order to cancel a paid registration to a seminar, send an email with your name, mailing address, telephone number and the name of the seminar for which you are requesting a refund of fees to the following email address: events@americanortho.com If a seminar is cancelled by American Orthodontics for any reason, all fees that were paid in advance will be refunded.
Credit Card Refunds
Fees paid by credit card will be refunded back to the original credit card that was used to register for a seminar. Please allow 4-5 days for the refund to be applied back to the credit card.
Contacting Us
For questions regarding refunds for seminars, contact us at:
American Orthodontics
Attn: Megan Kerscher-Walsh, Senior Events Coordinator
3524 Washington Ave.
Sheboygan, Wisconsin U.S.A. 53081-1048
Toll Free: 800.558.7687
Email: mkerscher-walsh@americanortho.com